New York City is the undisputed home of America's favorite pie. Any local will tell you this is the city where everyone has a favorite slice. Every New Yorker has their go-to place for fancy pizzas, late-night snacks, and post-club chow downs.
So, with that in mind, we're not going to pretend our favorite New York pizza restaurant is the final word, but if you're looking for some inspiration, here are our recommendations for the best pizza in NYC.
10 Best Pizza Places in NYC
What makes the most iconic pizza spots in NYC?
Everyone's got a preference, whether it's a unique style, atmosphere, or just because you're looking for a cheap slice of cheesy goodness. Here are 10 spots to get you started.
1. Joe's Pizza
Sweet tomato, stretchy mozzarella and a foldable crust all perfectly melted together with a healthy glistening of grease. Head down to Carmine Street for one of the true institutions of New York pizza. Nobody can beat Joe's cheese slices which are known far and wide for their impeccable flavor, texture, and aroma. Not only that, but its incredibly low price point makes it ideal if you're looking for something cheap yet utterly delicious.
The dough is always cooked to perfection, giving the slice a golden crispy exterior while still being chewy in the middle with just enough give when bitten into. The tomato sauce is tangy and rich in flavor, adding a wonderful balance to the creamy melted mozzarella. It's no wonder that generations have grown up on this legendary pizza—it's an iconic treat synonymous with New York City itself,
2. Best Pizza
This Brooklyn-based pizza place didn't think through its branding when it opened because searching for this pizza in New York will bring up just about every place in the city. Check out these wood-fired slices of pizza. The grandma square features a focaccia-style crust with plenty of crispiness. Some of the tastiest slices are their white slices with ricotta and caramelized onions. The chefs sprinkle sesame seeds along the edges to add a nutty balance.
3. Roberta's
Roberta's is an NYC pizza legend because it helped launch the entire Neapolitan trend within the city. Its fluffy crust comes from its massive wood-burning oven, leaving charry flecks on the outside.
Roberta's outdoor dining spot makes it ideal for large groups. And if you have doubts about the influence of Roberta's in NYC, it even has a location in Los Angeles. Plus, they sell frozen pies at Whole Foods.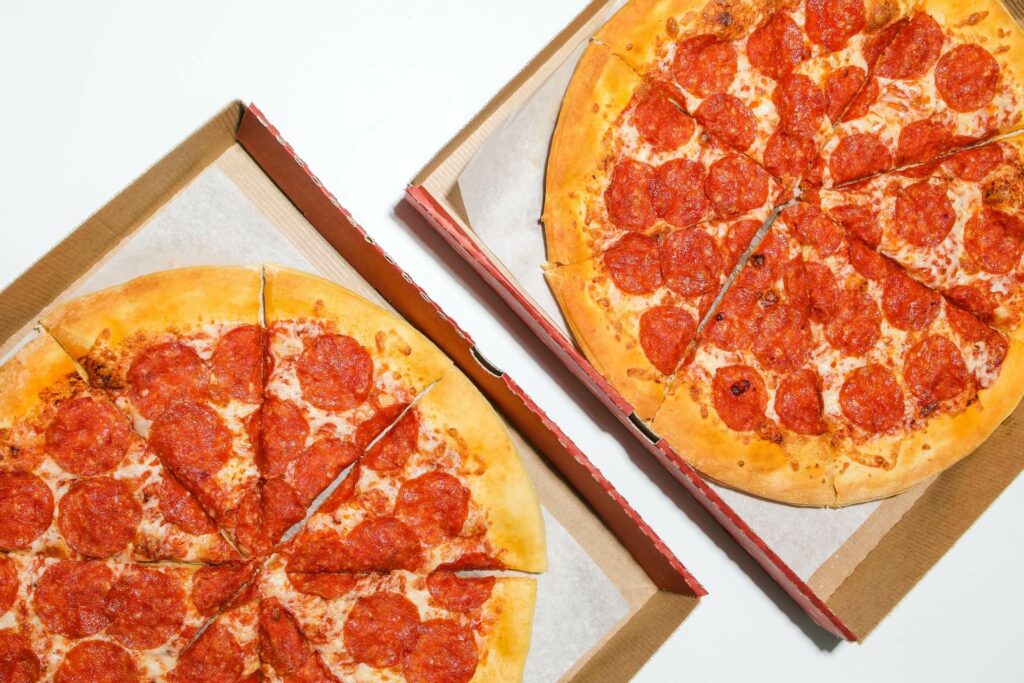 4. Vinnie's Pizzeria
Vinnie's Pizzeria is a hidden gem of the Big Apple's pizza scene. Located on the Upper East Side and Williamsburg, it's a modest pizzeria that's easy to miss. With two-top table dining only, this is the pizza for when you're on the move.
If you love generous amounts of bubbly cheese with an airy crust, this is the place for you. Lou and the guys are big fans of the pepperoni and sausage slice, the pizza where every bite is a meal.
You can even pick up some authentic Italian and Mexican sodas inside as an added bonus!
5. Ace's Perfect Pizza
As New Yorkers, it's easy to think that anything not done in the New York style is sacrilege (we're looking at you, Chicago!), but we'll make an exception for Ace's Perfect Pizza.
This old slice joint in Williamsburg makes excellent Detroit-style pizza with simple cheese-webbed crusts and pepperoni. You can also pick up Sicilian pies and grab a glass of wine while you have a session on their vintage Nintendo 64.
They're a little pricier than they used to be, but it's worth it.
6. John's of Bleecker Street
The original John might be long gone, but the institution continues. Since 1929, John's on Bleecker Street has been pumping out old-school slices. If you're looking for pizza spots in NYC that capture the heart of the city's pizza heritage, John's is the place for you.
Forget about expensive new-wave ingredients and trendy décor. John's is all about efficiency for hungry, no-nonsense New Yorkers.
7. Motorino Pizzeria
If you're looking for a more modern take on NYC pizza, Motorino is an excellent choice. Located on the Upper West Side and in Brooklyn, this youthful pizzeria attracts a hip crowd who loves plump Neapolitan-style pies and ethically sourced toppings.
You'll find a few trendy combinations at reasonable prices. Try the brussels sprout pizza or the Fior di Latte for a taste sensation.
8. Emmy Squared
Emmy Squared is the mid-range pizza restaurant in NYC, located between the original on Clinton Hill and the newest Emily in West Village.
This square, Detroit-style pizza has a crunch and a thick doughy taste. It's a carb-heavy pizza NYC with plump pepperoni, bubbly cheese, and even some standouts like pickled chilies. There's even a downstairs burger bar and sandwiches if you're not in the mood for pizza..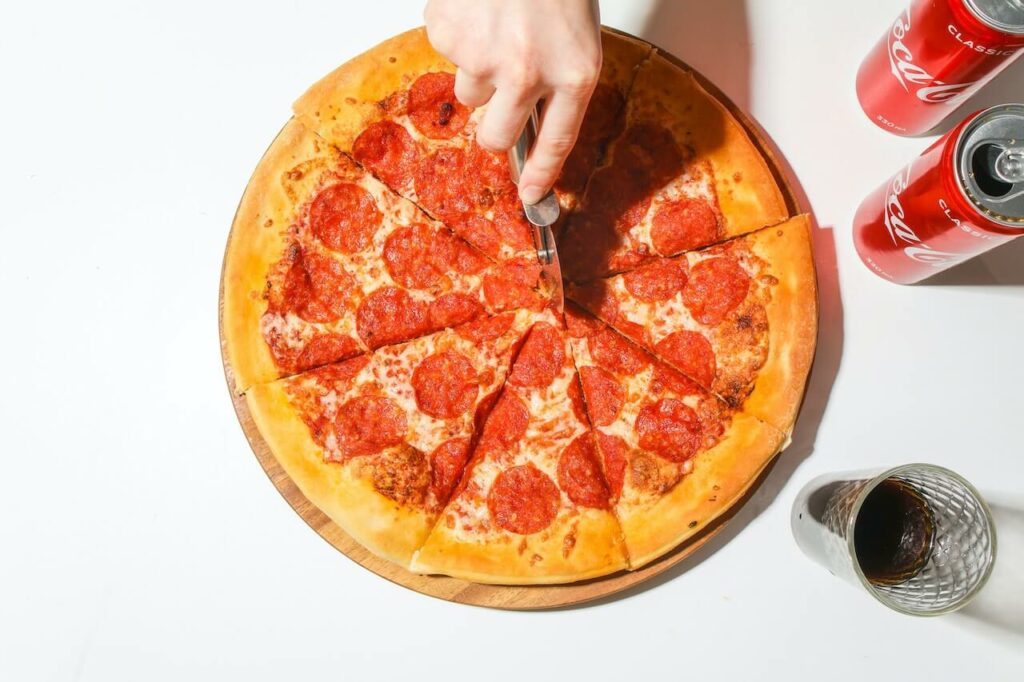 9. Louie and Ernie's Pizza
If you're searching for the best pizza place in New York, be sure to check out Louie and Ernie's Pizza. This establishment opened in 1947 in East Harlem before moving into the Bronx. It's one of the few pizza places in New York that still serves slices on paper plates with no cutlery provided.
Check out the cheese pie with salted sausage on top. As you'd expect from the best pizza in NYC, these pies are crispy on the edges and soft in the middle, which is just how we like it.
10. Di Fara Pizza
Located in Midwood Brooklyn, Di Fara is one of the most iconic New York pizzerias. They use only the freshest ingredients, and the pies are made with love and dedication. It's definitely worth the wait in line!
The thin-crust pizzas are cooked in a wood-fired brick oven, and you can choose from plenty of toppings. From the classic Margherita to the Sausage & Onion, Di Fara has something for everyone's taste buds. The pizza is crispy on the outside yet chewy on the inside, with just the right amount of sauce and cheese. It's no wonder why Di Fara has been around for over 50 years, serving up some of the best pizza in NYC.
Lou Loves NYC Pizza
The best pizza in NYC is a priority for any true New Yorker moving to a new borough or neighborhood. Lou Moves You may be reliable, fast, and chill, but this NYC moving company understands how to maintain high standards in everything they do.
If you're looking for top service for your next move, we're the local moving company that knows every inch of New York City. Ask us about our favorite local pizza joints while we haul your belongings over the Brooklyn Bridge or up seven-story walk-ups.Request your free quote today, and let's get moving.