As Alicia Keys reminds us in her hit song, New York is the concrete jungle where dreams are made of. But the truth is, the process of moving in New York City doesn't always feel like a dream. Even for us natives, moving apartments in NYC can be tough. But trust us when we say, living here is worth it. If you're figuring out how to move to the best city in the world, it's important to be prepared for unique challenges you just won't find anywhere else.
Want to know the secret to pulling off a successful NYC move? Planning, planning and more planning. So whether you're looking to become a part of the lively hustle and bustle of the Big Apple or you're already here and looking to relocate, here are our top tips on moving to NYC or between boroughs.
17 Foolproof Tips for Moving in New York City
If you can make it here, you can make it anywhere. And nothing tests you like moving in New York! Moving within NYC or relocating to the city means you need to map out the entire process from start to finish. Newbies to the city and veterans both have different considerations. In this guide, we'll discuss the best way to move in NYC for both newcomers and veteran New Yorkers.
7 Tips on Moving to NYC
So, you've decided to make your big city dreams come true. In true New York spirit, the city will welcome you with open arms! However, if you're unused to the high-density chaos of a city like this, you may feel slightly overwhelmed – and that's okay!
Here's how to plan your move to the city that never sleeps.
1. Prepare Your Budget
The first step for those moving to New York is to create a strict budget. It's no secret that New York City is an expensive city with a votatile housing market in the U.S. Apartments may be pricey and typically come with a broker's fee of 10-15% of the annual rent when you move in. If you're flying to New York, factor in flight tickets and transportation to/from the airport. Flying with a pet? They need a ticket too. Don't forget about the price of boxes and moving supplies. There are lots of factors that can push your moving costs up, which is why it is important that you make sure you have your expenses planned out to avoid any surprise fees.
2. Select Your Borough
Every single one of New York's boroughs is unique, each offering a one-of-a-kind culture and character that can't be matched. Your borough matters because it will influence your whole experience, and you need to find the borough that feels like home to you. That's why it's always best to visit each borough prior to moving and imagine yourself living there.
It might surprise you to learn that New York City was once made up of five independent cities that merged to become the city we know and love today. It's impossible to capture the essence of the boroughs in writing, but here's a quick synopsis of each.
The Bronx – The Bronx has one of the best zoos in the world, the biggest park in the city, and is home to the famous New York Yankees. The Bronx offers lower rents and a quieter experience than its bustling neighbor, Manhattan. If you want a rich culture with the conveniences of city living, the Bronx might be for you.
Manhattan – No introduction needed for this one. Manhattan itself is full of unique and interesting neighborhoods, ranging from the cool grunge and low-rise buildings of the East Village to the glittering skyscrapers of Midtown. This is the smallest borough in the city and offers epic museums, Central Park, Wall Street, and is home to the United Nations.
Queens – Queens is quite possibly the biggest melting pot in New York and is also the foodie capital of the city. There's no dish you won't find in Queens. This up-and-coming neighborhood offers a suburban vibe only a quick subway ride from Manhattan. With lots of waterfront parks, Queens offers a great combination of city life, diversity and nature.
Brooklyn – Brooklyn has quickly become synonymous with art, music and culture. No matter what your vibe is, you'll find it in this massive borough. Whether you prefer the street art scene in Bushwick, the trendy storefronts of Williamsburg, or the laid-back family feel of Park Slope, there's a neighborhood for everyone in Brooklyn. So cool that it rivals Manhattan, you'll have access to some of the city's trendiest bars and restaurants. Brooklyn has more than 700 different arts and cultural institutions, as well as (slightly) lower housing costs than Manhattan. Staten Island – Won from New Jersey in a notorious boat race, Staten Island is often called the Borough of Parks, with Lemon Creek Park, Clove Lakes, and High Rock Park to explore. This suburban oasis offers several botanical gardens and more spacious homes than the other boroughs. Staten Island is the place to be if you like nature, but want to be a quick (and free) ferry ride into the big city.
Take a tour of the boroughs if you're new to the city to get a sense of the flavor of each. You'll find one that speaks to you.
3. Think About Your Personal Transport
More than half of all New Yorkers rely on public transport to get around. If you have a car, you may want to consider whether it's time to sell. It's no secret that NYC parking rules are complicated and finding parking spots can feel like hunting for a needle in a haystack. Plus, once you finally do find a spot, alternate side parking rules mean you'll need to move your car from its spot once or twice per week.Truthfully, most of us use public transport. The subway system is robust, reliable and way faster than navigating NYC traffic. Depending on which neighborhood you move to, it may be time to sell that car.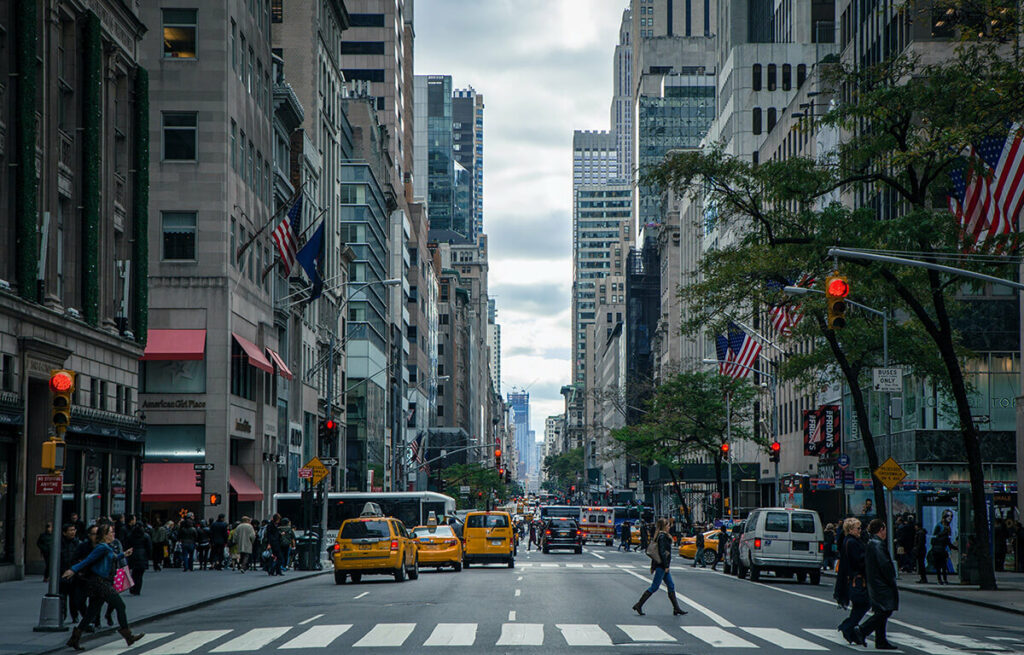 4. Pick The Right Neighborhood
Now you've got an idea of which borough you want to live in. It's time to explore the neighborhoods of said borough. Each borough is full of unique neighborhoods that can feel totally different from one another, despite being only blocks apart. One of the top tips for moving to New York City is to take your time in choosing your neighborhood.
Whether you're looking to conquer Wall Street or prefer the quieter streets of Brooklyn's Cobble Hill, there's a neighborhood for you. Contrary to what many people think, not every neighborhood in NYC is full of the hustle and bustle. There are plenty of peaceful oases throughout each borough, so take the time to discover them.
So, what are the primary considerations in a neighborhood?
Commuting Distance – How are you going to get to work? Map out your route in advance and how long it might take. Are you willing to deal with that five days a week?
Noise – NYC is notorious for being noisy. There's no getting around that, but there's ambient city noise, and then there's noise noise. Go for a walk on a Friday night, especially if the neighborhood you're looking at is popular for nightlife.
Nightlife – Are you someone who wants to be close to the trendiest bars and hottest clubs? Or do you prefer a more relaxed, laid-back feel? Perhaps you want a mix of both? Think about what matters to you and find a neighborhood that matches your vibe.
Green Spaces – Newcomers to New York often believe that this city is no more than a concrete jungle. This is simply not true, and New York offers some of the most beautiful parks in the country. Each neighborhood has their own green spaces. Whether it's a major park like Prospect Park or a small inner-city oasis like Tompkins Square, New Yorkers love their parks. Find the one that you can see yourself spending time in.
Walkability – One of the best things about living in New York City is the convenience and access to anything you could possibly want, when you want it. Need cough syrup at 3am? Go to the 24/7 bodega on the corner. If you're not driving, you'll need a walkable neighborhood. Think about safety, the size of the sidewalks, and the traffic.
Rental/Home Prices – Of course, you'll need to be aware of rental or home prices in your neighborhood. You should have already prepared your budget, so narrow down your choices.
5. Furnished or Unfurnished?
If you're renting, you might be surprised to find that the few furnished apartments available to rent are typically aimed at tourists and other short-term stayers. Furnished apartments are available but expect to pay a premium for these spaces, as they are rare.
NYC apartments typically come unfurnished and with 12-month leases. Most landlords signing longer leases with their tenants assume that most people will want to bring their furniture from their existing apartments. Plus, landlords prefer to limit their liability by not furnishing and risking damage.
Apartment amenities, such as washing machines, refrigerators, and stoves, are typically included. Someone moving from a furnished apartment needs to plan how to bring their furniture to the city and determine whether there's even room for it (NYC apartments, especially in Manhattan, are notoriously small). Measure the apartment you're moving to and make sure to get rid of any furniture that won't fit.
6. Don't Just Show Up
In any other city, you'd be able to just pull up with your moving van and get ready to unload. Moving in New York City requires a little extra planning.
From parking rules to movers insurance forms, there can be a few hurdles to moving day. Buildings sometimes have their own restrictions on when you can move in and out. For example, some buildings will prohibit moving on weekends. During the week, there will typically be a set window for when you can move in. Know the rules in advance to avoid annoying your building manager and future neighbors.If you're moving to the city, it's best to hire professional NYC movers who know the ins and outs of the process.
7. Hold Off on Moving in Bulky Furniture
If you want to bring your own furniture, measure your hallways and doors first. What makes NYC such a magical place is the history and authenticity of the buildings. Many of these buildings go back well over a century and were not designed for that 96" leather sofa. Unless you plan on paying up for someone to bring it in through the window, you'll likely need to minimize your inventory in order to navigate the narrow spaces.
Getting a sense of space on an initial visit will help you decipher whether you can bring along your old furniture or whether you'll need to consider selling.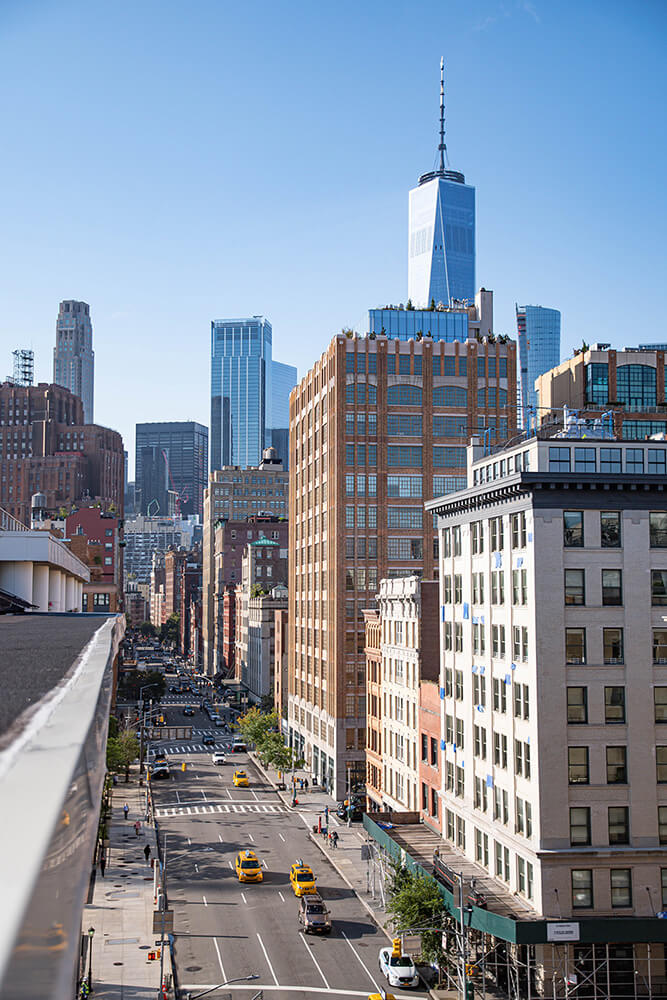 10 Tips for Moving Within NYC
While a lot of the tips on moving to NYC above also apply to veterans moving within the city, chances are you already know the boroughs pretty well and have found your nook in the city. However, knowing how to move in NYC guarantees that you don't end up spending extra money on last-minute fees. Even New Yorkers can fall victim to many of the pitfalls of moving from one apartment to another, which is why it's always smart to check up on the latest moving tips. NYC is unpredictable, so here are some tips for your next move.
1. Get Organized
Start by getting organized. It's easy to accumulate lots of stuff while living in one place. When it comes time to move, it's time to start Marie Kondo-ing your apartment and getting rid of what you don't need. Trimming down your belongings will make your move faster and infinitely easier to manage. Sell or give away what you don't need and keep only the essentials. Not only will it limit how much packing you have to do, but your move will also be cheaper because you won't need to hire a bigger truck.
Keep a list of everything you take with you and be sure to label your boxes. For electronics, take a picture of the wire configurations before packing everything away to make it easier to manage to unpack later.
Another important part of moving if you're a renter? Getting that security deposit back. Before you leave, make sure you tidy up. It doesn't have to be sparkling, but at least make an effort. Snap some pictures before vacating.
2. Hire Movers Who Know NYC
Movers in NYC are worth their weight in gold. From navigating the busy streets to finding street parking outside your new building, make sure you hire a team that knows the process inside and out.
Let Lou and the team handle your trek across town. Due to the restrictions on parking and building moving hours, you need someone who can move quickly and safely. Seasoned movers already know about the challenges of moving in NYC, including double parking rules, getting furniture through tight spaces, dealing with toll bridges, and doing the heavy lifting of bringing couches up those fifth floor walk-ups.
Nobody wants to end their move in NYC by throwing out their backs or getting their vehicles towed away for exceeding the allotted time. Don't DIY it when moving in NYC — hire the experts for a seamless move.
3. Move When Nobody Else is Moving
Is your move-in date flexible? Then you'll want to try to make sure you're the only person moving out of your building on moving day. You don't want to be competing for hallway space or fighting over the elevator with neighbors who are also moving. Trying to manage multiple moving operations at once is frustrating, and there's always the chance of conflict.
Coordinate with your neighbors (in your current building and your new one) to avoid those pileups in the stairwells and elevators. Talk to your building's superintendent for a rundown of the current moving schedule.
4. Be Fully Packed Before Your Movers Arrive
As far as NYC moving tips go, this one is the most important for moving from one pad to another. Be completely ready when your movers arrive, otherwise you'll be making their lives (and yours) way more difficult. Movers are exactly that: movers, not packers. It's up to you to have everything ready to go when they arrive so that they can get started transporting your stuff. This doesn't mean throwing your belongings into boxes and hoping for the best — you have to be organized and strategic in your packing. Hastily packed or loose items can easily be broken, lost, or crushed. Your goods are your responsibility, so ensure you've got your packing supplies and taped everything up well before your moving team arrives.
5. Hand Carry Your Most Important Items
If you can, move some of your smaller, more delicate items before moving day. Not only will this lighten the load for your hard-working moving team (and lighten the financial burden of your moving fees), it will give you peace of mind during a stressful day. Not to mention, you don't want to risk losing or damaging valuables, such as expensive electronics, collectibles, and jewelry.
We always tell everyone we work with to tell us in advance about any important or sentimental items. They'll ride up front in the cab with us so we can keep them safe. However, we recommend making a few trips with your most treasured belongings before moving day. It's always better to be safe than sorry, so if there's something you can't afford to lose, keep those items with you.
6. Try Not to Move During the Winter
Life happens, and you can't always predict when you'll need to make a move. However, New York winters can be brutal and staying put during January, February, and early March will make moving day much less stressful.
Struggling through snow and ice makes any move infinitely more complicated. Not only does it make moving heavy furniture more difficult for your movers, but there's also the increased risk of slipping and falling on ice, car accidents on the road, and traffic jams.
If you have to move during the winter months, make sure to shovel any steps or walkways into your building, ask your building manager to salt the entryways, and be prepared to pay a little more to accommodate the hard work your movers are putting in to get you to your new (and warm) apartment.
7. Check the Schedule for City Events
What makes NYC so unique is that there's always something fun happening somewhere. Beyond the events that encompass the whole city, individual boroughs have their own traditions and associated events. While these events are great for any other weekend, you certainly don't want any events happening on the day you're moving.
For example, it should be obvious that you shouldn't move on the weekend of the New York City Marathon or during the Thanksgiving parade. If you live in Little Italy in Manhattan, you may run into an event like the Feast of Saint Gennaro in September, where the streets come to a standstill with huge crowds.Familiarize yourself with what's happening around your proposed moving day in both your old neighborhood and your new one.
Let Lou Move You
When it comes to moving in NYC, tips for success will vary depending where you're going and where you're coming from. Either way, don't get too stressed about moving in New York — no matter how stressful moving day is, every day after that day in this amazing city will be worth it.
With the right movers by your side, moving in NYC becomes a lot easier. Let us worry about those street cleaning days and finicky building regulations. Just pack up your stuff and let Lou and the team handle the rest.We're the chillest local moving company full of New York locals. We've lived in this city our whole lives and we know the streets like the back of our hand. Contact us today to learn more about the coolest NYC moving company in town.